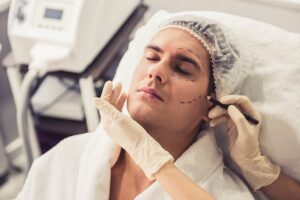 These days, men are becoming increasingly interested in cosmetic treatments. With numerous non-surgical treatment options available that provide subtle yet noticeable results, men can now conveniently enhance their appearances. 
Dermal fillers are one such treatment option that allows men to overcome wrinkles and lost facial volume due to aging.
Leading Treatment Areas For Fillers Among Men
Fillers can be injected into many areas of the face, but the most common treatment areas for men include:
A chiseled jawline is a highly sought-after feature for men. Dermal fillers can help you achieve it by sculpting and subtly volumizing the jawline.
The natural aging process can diminish the plump, raised appearance of the cheekbones. To offset this, men can opt to receive fillers in the cheeks, which can volumize and smooth the area.  
Similarly to the jawline, many men desire a strong chin line. Dermal fillers can subtly enhance the appearance of the chin to give the face a more youthful appearance. 
Under-eye circles can deepen with age due to lost facial volume, giving the face a tired appearance. Certain dermal fillers can be injected into the under-eye area for a smooth, rested look. 
Nasolabial folds extend from the sides of the nose to the mouth. The natural aging process tends to deepen these folds. Dermal fillers can be injected into this area to rejuvenate the face. 
What Are The Benefits of Dermal Fillers For Men?
Men can reap the following benefits from dermal fillers:
Little to no risk of side effects, making it an ideal alternative to cosmetic surgery

Requires little to no downtime, allowing patients to return to their normal activities immediately

Immediate, subtle results that typically last between six months and two years, depending on the filler
At Florida Face and Body, we offer a range of dermal fillers that can help both men and women attain their cosmetic goals. Contact us today to schedule an appointment!