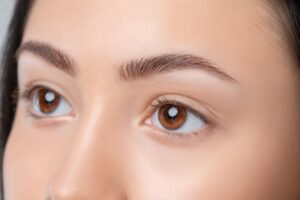 The delicate skin around the eyes is often the first to reveal your age. It's thinner and more vulnerable to damage than the skin on the rest of your face, making crow's feet and under-eye circles some of the most common signs of aging. 
The CO2 laser is a safe, treatment option that can rejuvenate the appearance of your skin, including the skin around your eyes. This article discusses how this popular aesthetic treatment can turn back the clock on your eyes. 
What is The CO2 Laser?
The CO2 laser is an ablative laser skin resurfacing treatment that uses light energy to heal and rejuvenate the skin. The water in skin cells absorbs light energy from the laser, which gently heats the middle layer of the skin. This process stimulates fibroblasts and collagen production in the skin while allowing new skin cells to reach the surface. 
The results of the CO2 laser will continue to improve as the skin produces more collagen. The full results are usually seen three to six months after the treatment session. 
How Does The CO2 Laser Work For Wrinkles Around The Eyes?
Given that the skin around the eyes is particularly sensitive, it can't be treated with many of the aesthetic treatments available today. However, the CO2 laser is gentle enough to be used on this delicate area. 
The CO2 laser brightens and smooths the skin while targeting signs of aging, including:
Crow's feet

Under-eye circles

Sagging skin around the eyes

Uneven skin texture

Lost firmness around the eyes

Sun-damaged skin

Discoloration 
Full-face and partial-face CO2 laser treatments are available. So, you can use it to target the eye area alone or address signs of aging on the entire face. 
At Florida Face and Body, we offer CO2 laser for signs of aging around the eyes, as well as fine lines, wrinkles, scarring, melasma, and hyperpigmentation. Contact us today to book your consultation!