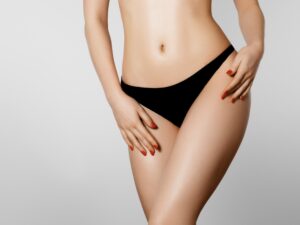 Summer is fast approaching, and with it comes sunny beach days, poolside lounging, and, of course, bare legs! But, if your legs spur insecurity when you look in the mirror, the thought of breaking out your summer wardrobe could be a stressful one. 
Trade that stresses for confidence with truSculpt flex. This personalized muscle-sculpting treatment can noticeably tone your legs (along with your abs and legs) without the downtime and risks associated with cosmetic surgery. 
Let's learn more about truSculpt flex and how it can help you achieve head-turning legs for the summer season. 
How Does truSculpt flex Work?
truSculpt flex features multi-directional stimulation or MDS. It's an advanced method of electrical muscle stimulation that targets particular muscle groups with three treatment modes. 
By safely stimulating full muscle contractions, much like the voluntary contractions experienced during exercise, truSculpt flex strengthens, tones, and firms the targeted muscles. It also starts by prepping the muscles with a twisting motion, ensuring that they're properly warmed up.
What To Expect After truSculpt flex?
The truSculpt flex system features unique truControl technology for safe, consistent results that are customized to the patient's body shape, skin type, and unique needs. No downtime is needed – most patients only experience mild muscle soreness for one to three days. 
Up to 8 treatment areas can be treated in a 45-minute truSculpt flex session, so you don't have to focus exclusively on the legs. Most patients are recommended to undergo two sessions per week, with noticeable results after the second session. The maximum results are generally visible two to three months after the final session. 
Toned, summer-ready legs are within reach with truSculpt flex. Get started now for the maximum results in time for summer! Contact us today to schedule an appointment.