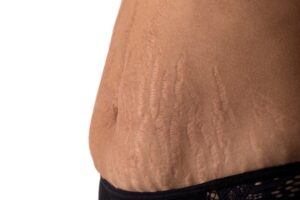 Pregnancy triggers a variety of changes in the body that may linger even after you've given birth. For example, after pregnancy, most women experience lost elasticity in the skin around the abdomen. This results from the stretching that occurs in pregnancy. 
Unfortunately, the skin doesn't immediately bounce back after childbirth. However, we offer non-surgical treatments in Florida that can safely tighten and firm loose skin after pregnancy, helping you regain self-confidence without a lengthy recovery period. 
VASERLipo After Pregnancy
VASERLipo uses ultrasound technology to slim and tighten the treatment area more effectively than conventional liposuction. It can help you achieve a toned, contoured appearance after pregnancy. 
Compared to traditional liposuction to enhance your post-pregnancy appearance, VASERLipo offers two key advantages. For one, it helps free fat from the adjacent tissues that keep it in place, allowing for more complete contouring. Additionally, it facilitates a less traumatic procedure, leading to less pain and a faster recovery.
With VASERLipo in Tampa, you can achieve high-definition body sculpting after pregnancy without compromising your comfort. While minor bruising is common after this procedure, side effects beyond mild discomfort are unusual. 
Renuvion After Pregnancy
Renuvion in Tampa tightens skin from the inside during liposuction or VASERLipo with helium plasma and radiofrequency energy. This unique technology stimulates skin tightening and contouring by gently heating the connective tissue under the skin, triggering its natural healing process. 
The Renuvion treatment process makes the skin less baggy and more adherent to the underlying muscle tissue. It's ideal for contouring the abdomen, thighs, buttocks, or arms after pregnancy. 
VASERLipo and Renuvion are post-pregnancy treatments that can be combined for optimal results. The experienced team at Florida Face & Body in Tampa provides these leading-edge treatments and can help you achieve your cosmetic goals after pregnancy. Reach out to us today to schedule an appointment!