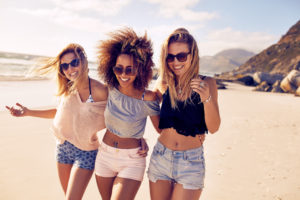 Summer will be here before you know it, and that means it will soon be time to show off your favorite swimsuit. But, if pockets of stubborn fat have you steering clear of beach parties, it may be time to consider truSculpt® ID. 
What is truSculpt® ID?
truSculpt® ID is non-invasive fat reduction treatment. It uses radiofrequency (RF) energy to penetrate the entire layer of fat, from the skin to the muscle, without incisions or injections. The RF energy heats up the stubborn fat cells, leading to cell death. In the 12 weeks following truSculpt® ID treatment, your body will naturally process and remove them.    
The FDA has approved truSculpt® ID for patients with a BMI of 30 and higher, making it stand apart from other non-invasive body contouring treatments. It can be combined with truSculpt® Flex ID muscle sculpting for a slim, toned look. 
Why Consider truSculpt® ID Before The Summer Season
Fast and Effective
truSculpt® ID treatment takes just 15 minutes to administer. This makes it one of the quickest body contouring methods available. 
No Downtime
No downtime is required after truSculpt® ID. So, you can return to your regular schedule immediately after this treatment. 
Safe and Non-Invasive
truSculpt® ID features real-time temperature control. This feature ensures that the temperature of the treated skin is monitored constantly and the RF energy is automatically adjusted accordingly to maintain a safe, therapeutic temperature. You'll remain comfortable throughout truSculpt® ID treatment. Patients of all skin types and body shapes can safely undergo truSculpt® ID treatment. 
Versatile for Multiple Areas of Stubborn Fat
truSculpt® ID features a one-of-a-kind handpiece that can treat multiple areas of the body, including the: 
Arms

Thighs

Back

Buttocks

Abdomen 

Bra fat

Flanks 

Beneath the chin
If you're interested in truSculpt® ID to get rid of stubborn pockets of fat, schedule an appointment at Florida Face and Body today.