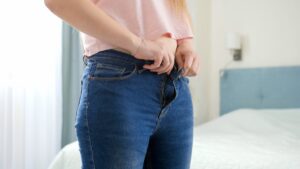 After working to maintain a healthy diet and exercise regimen to lose weight, no one wants to deal with stubborn fat. But, small pockets of fat on certain areas of the body, like the belly, often aren't responsive to traditional weight loss methods. 
If you've reached your goal weight but want to shake off stubborn fat, truSculpt® iD could be the right solution for you. This innovative aesthetic treatment uses radiofrequency energy to eradicate stubborn fat and help you achieve a toned physique. 
Let's learn more about truSculpt® iD and how it can help you tackle stubborn fat. 
How Does truSculpt® iD Work?
truSculpt® iD is an RF body contouring treatment from Cutera that's been FDA-approved for patients with a BMI of 30 and higher.
During the treatment, your provider will use a special hand piece that's uniquely designed to safely and comfortably deliver RF energy to multiple areas of the body. The system features uniform delivery technology, ensuring that the RF energy penetrates the deep layers of the skin to reach the complete fat layer. 
During truSculpt® iD, your skin temperature is consistently monitored and the RF energy is automatically adjusted to maintain an ideal temperature. The RF energy stimulates the body's ability to break down and remove the targeted fat cells. 
Patients experience an average of 24% fat reduction over the course of 12 weeks after truSculpt® iD. 
What Are The Benefits of truSculpt® iD For Stubborn Fat?
truSculpt® iD offers several benefits as a fat reduction treatment, including:
Can be used for many areas of the body, including the arms, back, thighs, buttocks, and abdomen

Toned, sculpted appearance 

Safe and pain-free treatment process

Encourages collagen production for tighter skin in the treatment area

No incisions, injections, or scarring 
To learn more about truSculpt® iD as a solution for stubborn body fat, schedule a consultation at Florida Face and Body today.